I'll Help You Lose
20 pounds of Fat and Gain Muscle

In The Next 180-Days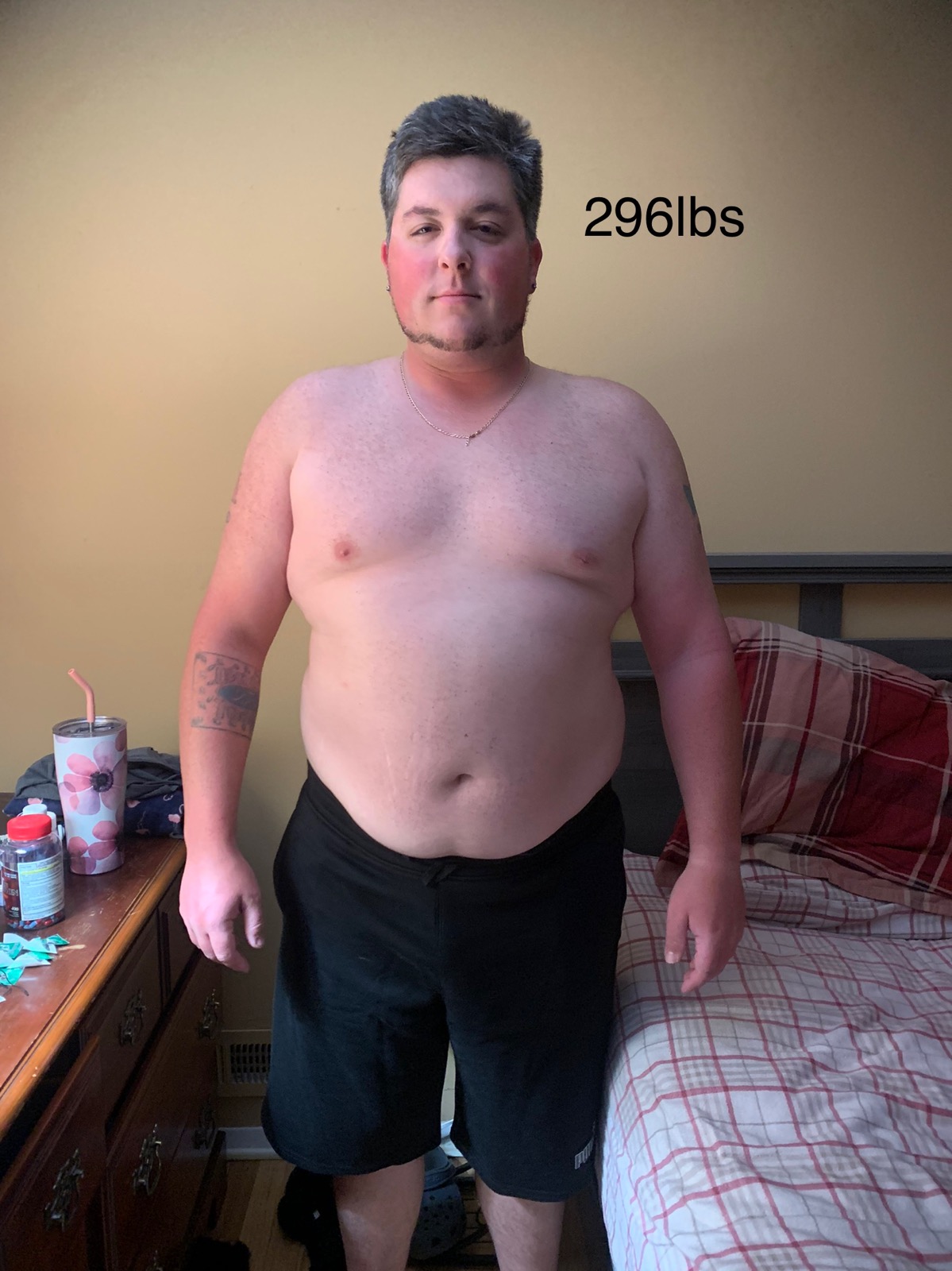 This Was My Client at 296 lbs Before His transformation
Here's My Client Today At 196 lbs. 100lb Fat Loss + 10lb Increase In Muscle!
"Trade in the 'burnt out' membership card of your 40s or 50s for a VIP pass to a rejuvenated and upgraded version of you, leaving Father Time waving a white flag in awe."
Picture this: a future where you're not just aging gracefully, but you're defying the odds with muscles that are not only impressive but functional, fat melting away like a snowman in July, and a physique that'll make you feel like you've discovered the fountain of youth's secret recipe.
Imagine confidently striding through the years, sporting a body that's not just turning back the clock, but smashing it with a sledgehammer of strength. It's not just about getting ripped; it's about embracing vitality, fueling your health, and experiencing life with a zest you never knew possible.
And hey, don't just wave at Father Time – make him do a double-take as he struggles to keep up!
With a body that's been honed to perfection, you won't just be defying aging; you'll be making it beg for mercy. Feel the rush as you sculpt muscles you never thought possible, torch fat like it's your personal bonfire, and stride into your senior years with a physique that'll have jaws dropping, minds reeling, and spirits soaring.
Break Free from Mediocrity
My Client Before
My Client After
This isn't just a makeover; it's the transformation of a lifetime. It's time to upgrade your health, upgrade your physique, and upgrade your outlook on life. So, grab that VIP pass and embark on the journey of a lifetime. Let's make Father Time's jaw drop and leave him wondering just how you managed to rewrite the rules of aging!"
I'm Psymon H, the naturally Jacked 53-year old; and I'm intent on helping you reach your mature best. Prepare yourself for an exhilarating journey of self-discovery and tap into your hidden transformative power.
With my Jacked Silverback program, you'll embark on a life-changing adventure that unlocks your true potential and brings out the absolute best version of "YOU."
It's time to step up and embrace the exciting possibilities that await you inside this 180-day Workout and Mentorship Program.
The Jacked Silverback Super Pack Encompasses the Following Areas:
·  Initial 1-2-1 Goal Setting and introduction call.
·  Complete Custom Macronutrient/Nutrition and Supplementation Program Focused on cutting body-fat and building muscle.
· Our Jacked Silverback Workout Program.
·  Power Meetings." These sessions allow us to address any factors holding you back from claiming that alpha status. As your coach, I'll answer your questions, provide guidance, and offer support when you need it most. With access to me via email, text, and pre-arranged calls, you'll always have someone in your corner, cheering you on and motivating you to reach your absolute best
·  24/7 support
·  Weekly accountability check-ins
Pricing: $1500 for 3 months - $3000 for 6 months Paid In Full
If You Want Change
You Have To Take Action Now!
No One Can Force Change On You...Only YOU!
So if you're not happy with where you are today and want to make change..Make the next move!
Answer a couple questions to work with me.




It will take less than 1 minute