Mission Jacked.com


 The Dumbbell Workout, Exercise & Minimal Equipment Resource For Building Muscle!



Rogue RML 3W Fold Back Wall Mount Rack
vs.
The PR-4100 by Rep Fitness
Introduction:
The Rogue RML 3W Fold Back Wall Mount Rack is a God-send for any small-sized home gym. Even though monster duty power racks, rigs, and cages look the part and can make for a centerpiece to any gym, they eat up valuable floor space and can make it difficult to accommodate other pieces of equipment in a small home gym. Now, add a car and the kids' bikes to the situation, and it all becomes a very tight squeeze with the high possibility that bad things can happen.
Gone are the days of the poorly designed squat racks that have you putting your safety in the hands of a bogus equipment manufacturer every time you replaced the barbell from back to the rack. Home gym equipment has come a long way, especially the folding squat racks.
Scroll Down To Continue Reading
Build Your Home Gym With These Related Articles
Choosing The Best Urethane and Rubber Dumbbells For Your Home Gym
Best Barbell Set With Bumper Plates Under $1100 
Continue Reading Below
The Fold Rack Wars
Enter the awe-inspiring black powder-coated RML 3W fold rack from Rogue.
When it comes to the American  3x3" 11 gauge steel works that not only look the part, but give the impression that the endless toil and grind of muscle-building and strength work is a serious business, this power rack speaks volumes.
But is this fold wall mount rack the best in its class or are there other space-saving power racks capable of dominating the home gym market?
In this article, we will have a power rack shootout between the Rogue RML 3W Fold Back Wall Mount Rack and the globally manufactured tough and durable PR-4100 FOLDING SQUAT RACK by Rep Fitness.
Bolt for bolt and screw for screw, we're going to put these two pieces of hardware through their paces to see who comes out on top.  The Mission Jacked team doesn't have a horse in this race; but we understand how hard it can be to identify the right fold rack for your home gym with all of the choices available.
Our objective is to give you a constructive overview of both pieces to help steer you to the best folding power rack for your home gym.  By clicking on any product links, Mission Jacked may receive a commission fee at no cost to you, the reader. 
The Rogue RML 3W Fold Back Wall Mount Rack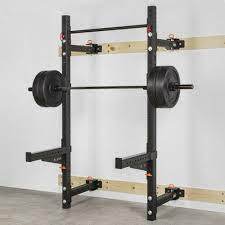 By just standing next to this almost military-style piece of home gym gear, you get the feeling that a statement of intent was defiantly nailed to the factory wall saying, "We own the power rack market, come and compete if you feel your product can stand against the Rogue RML 3W Fold Back Wall Mount Rack."
The days of quietly presenting your folding squat racks to the public, have long gone. In this day and age, it's about turning up, making noise, and showing off what your engineers and design teams have been working on behind closed doors.
Is This The Best Space Saving Power Rack?
Rogue was aware that the fold rack battle would be won or lost in the design, functionality, and storage department. Could they come up with a space-saving wall mount rack that could fold outwards or inwards while still presenting a robust unit that resembled their well-known Monster Lite range?
They managed to achieve this with the development of a distinctive and easy-to-install hinge and pin system.  With durable 3x3" 11 gauge steel uprights in black powder coat finish, the difference is clear when the unit is used as a squat rack, power rack, or a pull-up rig compared to lighter setups.
There's a quick attach pull-up bar and Westside hole spacing through the pull/bench area. To help maximize strength, Rogue has gone for heavy-duty hardware with laser cut holes.
You have two choices of fold rack depth. With the 21.5" depth, you can get your rack flush against the garage wall regardless of it in the inward or outward position. This is perfect for when you don't have space, and your gym doubles up as a carport. The 41.5" depth option allows for an inward or outward fold with a slight overlap. This folding wall mount rack option allows you to add gymnastic and calisthenics movements to your workout.
It's hard to believe that when the Rogue RML 3W Fold Back Wall Mount Rack is in the closed position, it takes up less than 5" of space. While easy to install, the unit feels solid as a rock, but for extra support, Rogue recommends stringers for the top and the bottom hinge brackets. They do supply stringers at an additional cost . When you purchase, you can start with the fold-back base and add accessories such as safety spotter arms or the vertical bar hanger later as finances permits.
The Rogue RML 3W Fold Back Wall Mount Rack has a 4.9-star rating with 1019 reviews when writing this article.
ROGUE RML 3W FOLD BACK WALL MOUNT RACK INSTALL
The Rogue RML 3W Fold Back Wall Mount Rack
vs.
PR-4100 FOLDING SQUAT RACK by Rep Fitness.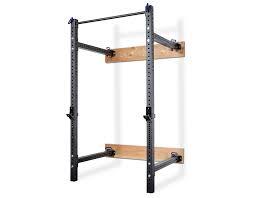 You can't have a foldable wall mount rack conversation without mentioning the tough and hard-wearing PR-4100 FOLDING SQUAT RACK by Rep Fitness. Designed for the most demanding workouts, this crucial piece of gym equipment creates a functional workout space at home without taking up all the floor space.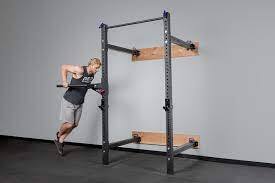 In a head-to-head battle with the Rogue RML 3W Fold Back Wall Mount Rack, the PR-4100 holds its own with 3x3" 11-gauge steel uprights and a capacity of 1,000 lbs. when properly mounted to the wall. While there is minimal vertical play in the hinges, this foldable wall mount rack can still work on uneven gym walls.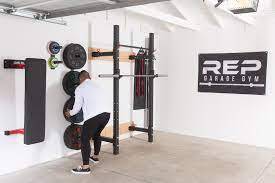 Like with all folding squat racks, it's essential that the rack is properly secured to your wall, as the weight on the arms could cause separation from the wall. Just like the Rogue RML 3W Fold Back Wall Mount Rack, you too have room to grow this unit to beast-size proportions, since it's compatible with the Landmine Attachment, spotter arms, J-cups, and the Dip Attachment.
There's no need to worry about protecting your flooring, as this well-designed power rack has protective caps on the bottom of the uprights. When you want to fold away or set things up, you can quickly use the heavy-duty pull pins provided.
Rep Fitness losses a few points to Rogue in the stringer department, due to you not being able to buy stringers directly from the company. This may not be a problem for some as local hardware stores sell wood stringers. While we're on the subject of stringers, the standard recommended spacing for the bottom stringer to the ground is 7-8" with the bracket being 9.5" off the ground for optimal stability.
Something worth remembering with this power rack is to account for the slope of your garage floor.
From the moment you unwrap this awesome piece of home gym equipment, you can see the manufacturing quality oozing out like cream out of a well-made cake.
 Knowing how focused the Rogue team was on bringing the best Rogue RML 3W Fold Back Wall Mount Rack to market, the Rep Fitness designers didn't want to be left behind and put a lot of care and attention to detail into the PR-4100.
The PR-4100 Folding Squat Rack has a 5-star rating with 23 verified reviews 
WATCH THIS before building your FOLDABLE WALL RACK!
We hope our Rogue RML 3W Fold Back Wall Mount Rack was helpful