Mission Jacked.com

Choosing The Best Urethane and Rubber Dumbbells
For Your Home Gym
Introduction:
While they may not be the sexiest piece of fitness equipment, rubber dumbbells have become essential for home gyms. If you are thinking about building a home gym, rubber and urethane dumbbells are a great place to start.
Related Article
Best Barbell Set With Bumper Plates Under $1100 
Why Should You Trust Me?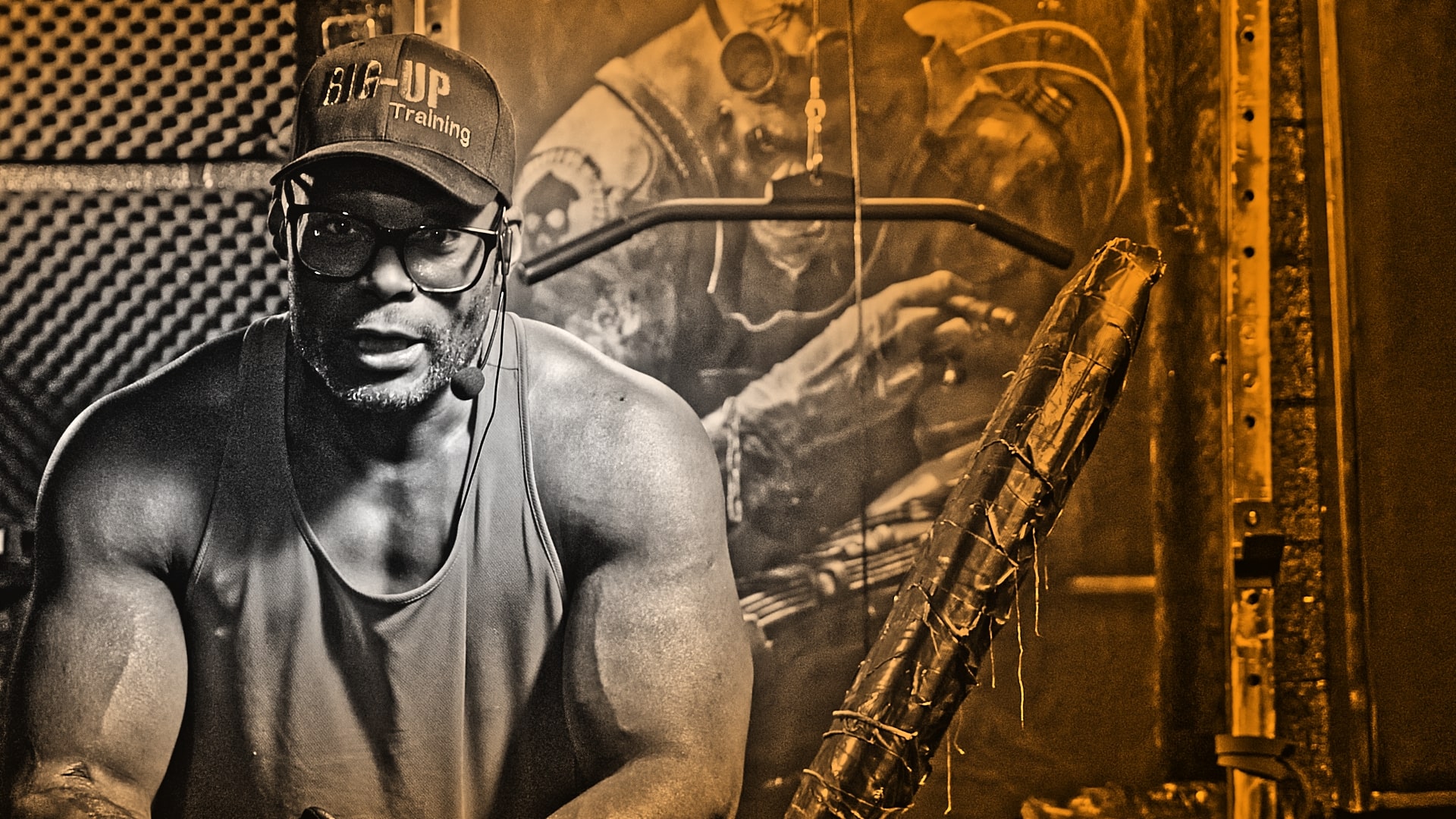 In the bigger scheme of things, the final choice is yours. But in my 40 years of training, I've seen the market for workout equipment blow up to what it is today. Much of my time has been spent getting to grips with, and testing some of the best pieces of home gym equipment on the market.
I understand how overwhelming it can be looking at all the choices available to you. Today I'm going to give you my opinion on what I consider to be some of the best rubber and urethane dumbbells, broken down into four different categories.
Best Overall Rubber Dumbbell
Best Rubber Hex Dumbbell
Best Budget Rubber Dumbbells
Best Round Dumbbell
I've also added a Rubber Dumbbells Buyers Guide to the end of this article, so you can make an informed decision about what rubber dumbbells are best for your gym setup.
By clicking on any product links, Mission Jacked may receive a commission fee at no cost to you, the reader.  
1: Best Overall Rubber Dumbbell - ROGUE RUBBER HEX DUMBBELLS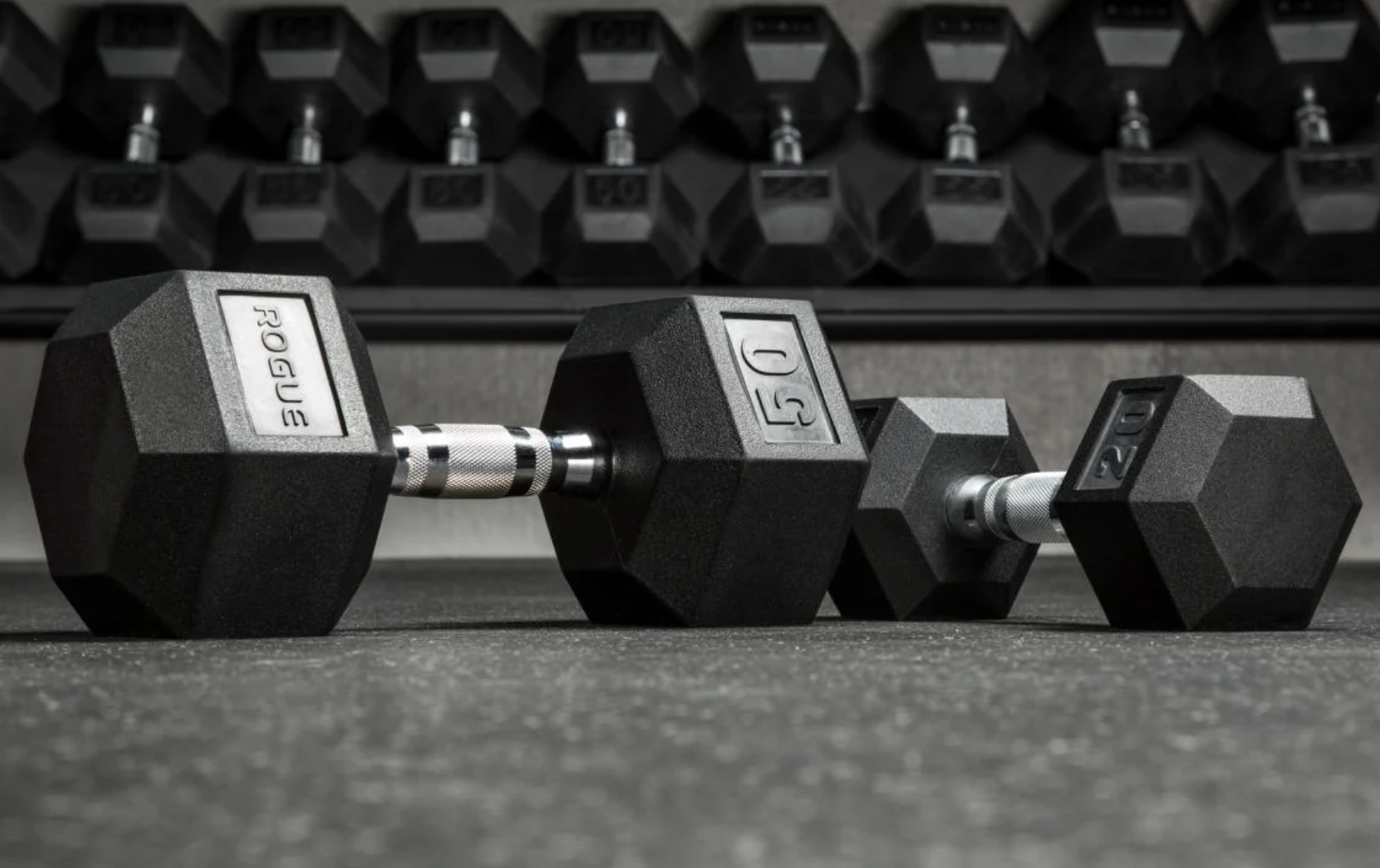 What makes ROGUE RUBBER HEX DUMBBELLS our best overall rubber dumbbell? These dumbbells are long-lasting, durable, and comfortable on the grip, with solid steel construction. 
Safe to drop because they are low bounce, these rubber dumbbells withstand high impact workouts such as CrossFit and rugged bodybuilding sessions. To avoid dumbbells coming apart, Rogue has made sure they tightly weld them where the head meets the handle.  All dumbbells are accurate to +/- 3% of the claimed weight.
All dumbbells come in pairs or as a set, starting at 2.5 pounds to 125 pounds (2.5lb increments from 2.5lbs to 30lbs, and 5lb increments after that.
On the downside, these dumbbells can be expensive once you factor in shipping cost.
This product has been rated 4.9 stars with over 600 reviews.
Check Prices
2: Best Rubber Hex Dumbbell- 
REP Fitness Rubber Hex 
You may wonder why I consider the REP Fitness Rubber Hex as the best in its category. These dumbbells  are well made, and the handles have edge-to-edge knurling that mimics the feel of a barbell. Even though uncontoured handles aren't everyone's cup of tea, it does mean sweat won't start to affect your grip during a workout. Use chalk? The superior grip means you'll end up using less.
With the REP Fitness rubber hex, you won't have to endure the sometimes overpowering smell from the rubber, due to REP Fitness using premium ultra-low odor rubber.
From a design point of view, the head construction is steel with a rubber coating. The handles are steel chrome-plated. If I could improve upon these awesome dumbbells, it would be to make the handles slightly smaller especially with the larger weighted dumbbells. This would make them feel slightly easier to handle.
Apart from the grip, another bonus is the free shipping that REP Fitness offers. These rubber dumbbells come in pairs or as a set. They range from 2.5 pounds to 125 pounds, with 2.5-pound increments from 2.5-pounds to 30-pounds and 5-pound increments from 35-pounds up. REP Fitness Rubber Hex are accurate to +/- 3% of the claimed weight.
At the time of writing this article, these dumbbells had a 4.9-star rating with over 300 verified buyer reviews.
3: Best Budget Rubber Dumbbell - Fettle Fitness Rubber Hex Dumbbells
5-50lbs Set
This popular standard rubber dumbbell set is a great budget-priced option that ranges from 5 – to 50-pounds. The set has ten pairs of rubber hex dumbbells that deliver on longevity, quality, and performance.
The heads are encased in heavy-duty rubber to minimize noise and give good wear and tear. To add to the comfortable of the grip, Fettle Fitness has ergonomically designed chrome handles. All in all, what you have with these hex rubber dumbbells are commercial fitness grade dumbbells perfect for a home gym setting.
These rubber dumbbells are priced much lower than comparative equipment and also comes lower than lesser quality gym equipment manufacturers.

 On the downside - If you want heavier than 50-pound dumbbells, you will have to purchase another brand. Also, all increments are 5-pound.
4: Best Round Dumbbell - Hampton Fit
Urethane DURA-PRO Dumbbells
If you have the room and are not affected by the shape, go for the Hampton Fit Urethane DURA-PRO Dumbbells.  These dumbbells are known for their compact design, allowing you to store the set with a horizontal or vertical racking system.
Another key feature of these impressive dumbbells is their unique 35mm fine-grade knurling contoured handles that give you an exceptional workout experience because the design supports the natural arch of your hand. 
They come in pairs from 2.5-pounds to 130 pounds, with dumbbells over 100-pounds having rubber heads. At the time of writing this article, there were no verified reviews.
On the downside because these dumbbells are round, it's best to make sure that your home gym floors are even, or you might spend your time chasing rolling dumbbells.
Check Price
Rubber Dumbbells Buyer Guide and FAQs: 
What are Rubber Dumbbells Made of?
Rubber dumbbells are made from metal that is either fully encased in rubber or has rubber-coated plates or balls. Some rubber dumbbells have solid steel head friction welded to the handle and then rubber coated with a durable high grip rubber for a permanent bond.
The best rubber dumbbells are made by solid casting, where the iron is poured into a mold so it is one single piece. 
As these solid-cast dumbbells are one piece and won't have any weak points, they are less likely to break or crack.  With lighter dumbbells, this isn't much of an issue.  Nevertheless, when it comes to buying heavier dumbbells, and if you have a habit of dropping them after a set, solid-cast should be your choice.
The Rubber Dumbbell vs. The Iron Dumbbell:
Although cast iron dumbbells are made with anti-chip chrome and toughened metals, they are not as robust and durable as rubber or urethane-coated dumbbells. Not only are they more robust, but over time they will retain all of their aesthetics. The main benefit the rubber dumbbell has over the cast iron and chrome version is that the rubber prevents rusting so the dumbbells last much longer while also protecting floors from drops.
What is Urethane Rubber?
You will notice that some dumbbells are made from urethane which is a family of rubbers and plastics materials that is more hard-wearing than the rubber compounds on most dumbbells. Urethane rubber is widely known for being…
 Tough,
Abrasion-resistant,
A higher load-bearing capacity
Better resistance to oils, dirt and grease, oils
Economical
Are Rubber Grips Good?
Rubber dumbbells provide a variety of grips. While the straight handles are the most common, textured and the more ergonomic contoured grips which are conical in shape are also available.
The advantage of the rubber-coated grips is that they can help avoid slippage through sweat and lower hand fatigue. They are also best with cold-weather training in non-heated garages and home gyms when steel handle dumbbells sometimes become too cold to handle. Rubber grips also seem to perform great with or without the use of chalk.
How Accurate Are Your Dumbbells?
Low-cost dumbbells can be as much as 10% under or over their claimed weight. The problem with this is that using mismatched dumbbells can cause strength and muscle imbalances. Before purchasing any dumbbells, always check that they are accurate to +/- 3% of the claimed weight.
Build The Rest of Your Home or Studio Gym With The Mission Jacked Team
Now You've Got Some Dumbbells, Let's Build A Better Physique
7 Dumbbell Lat Exercises To Build A Monster Wide Back.  Exercise Four Will Bury You!