Mission Jacked.com


 The Dumbbell Workout, Exercise & Minimal Equipment Resource For Building Muscle!



Choosing The Best Dumbbell Set With Rack
5 50 lb. Combo 
Introduction: 
Let's not beat around the bush, the cornerstone of any home or studio gym worth its salt, sweat, and tears is an all inclusive dumbbell set with rack 5 50 pounds. In our previous articles, we've reviewed and compared different styles of dumbbells. We've given you the inside scoop on the best urethane and rubber dumbbells, from the elite 5-100+ pound Rogue rubber hex dumbbells and the Hampton Fit Urethane DURA-PRO, to choosing the best pair of 25 lb dumbbells on the market.
 Here at Mission Jacked, we understand how overwhelming it can be to look at all the choices available to you.  In this new 5 to 50 lb. dumbbell set and weight rack article, we want to arm you with the facts so you can make an informed decision on the best package for your gym, and start pressing your way towards a greater physique. 
Scroll Down To Read More!
Related Articles by the Mission Jacked Team
Best Barbell Set With Bumper Plates Under $1100 
Continue Reading Below
Best Dumbbell Set with Rack 5 50 Combo - Option 1 -
The Fettle Fitness Dumbbells and Dumbbell Rack Set: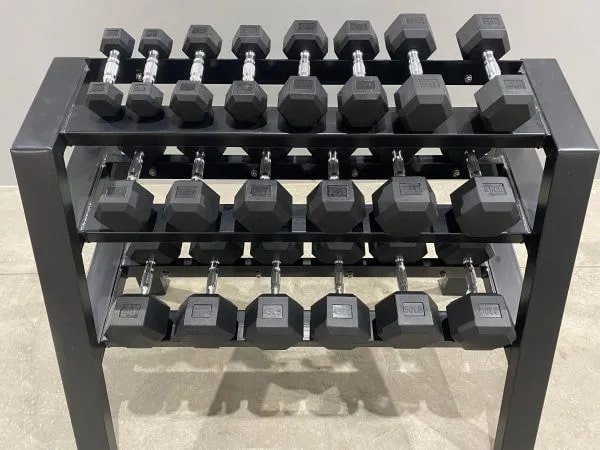 Fettle Fitness might not be the biggest  player in the strength and conditioning equipment market; but boy do they know how to pack commercial quality into a home or studio gym atmosphere. 
Take a look at this stunning budget-priced option, made up of 10 pairs of rubber coated hex dumbbells. To help minimize noise, wear and tear, Fettle Fitness has designed heavy-duty rubber-encased heads with chrome-plated handles that have an ergonomic design to maximize comfort.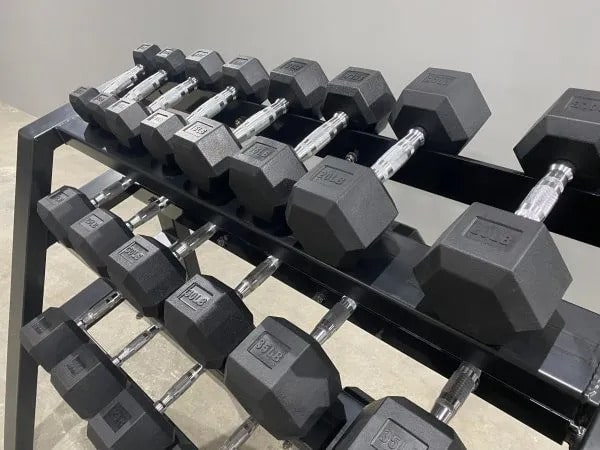 The set totals 550 lbs. and has 5-pound increments. This dumbbell set rack combo is priced much lower than comparative equipment and even comes at less cost than low quality gym equipment manufacturers.  From a quality and value perspective, it's hard to overlook this rubber hex dumbbell set. Fettle Fitness didn't skimp on the rack either, and settled for commercial-quality designed to last years of lifting on and off dumbbells.
Fettle Fitness gives you a Limited 5-year warranty against breakage and manufacture defects on the rubber hex dumbbells, but this warranty doesn't cover loss of rubber due to fading chipping, cracking, or improper use, including dropping or slamming.
As for the rack, there is a Limited Lifetime warranty against breakage and a 1-year warranty against manufacturer defects.
Callouts:
No Rack Dimensions.
There weren't any verified reviews posted, but don't let that put you off purchasing this product because all-in-all, you're getting a serious bang for your buck with decent customer service.
Best Dumbbell Set With Rack 5 50 lb. Combo - Option 2 - Rubber Coated Hex Dumbbell Set by Rep Fitness.
Ok, before I throw you a ton of good reasons why you should pick this set and tempt you as Eve did to Adam in the Garden of Eden, let me get the bad news out of the way. The dumbbell rack has to be purchased separately. 
Knowing how popular rubber hex dumbbells have become in the modern gym, Rep Fitness decided to up the ante and create a well-thought-out alternative dumbbell with a unique feature. The combination of dumbbells and a garage gym can often cause rusting, chipping, or peeling over a long period. Rep Fitness stepped out of the box and used the same premium low odor rubber they did to coat the hex design to also cover the handle.
The added benefit of having the handles covered with rubber is if you train in a cold environment and endure picking up cold steel, you no longer have to warm up the dumbbells.
While these rubber hex dumbbells have textured handles, they still provide a strong grip grip as knurled steel and holds chalk well. There's no need to worry that the rubber grip will feel soft in your hand. This isn't the case at all. These rubber coated hex dumbbells with rubber coated handles feel great in hand, look good and perform excellently.
They are made more compact than their standard rubber hex counterparts and takes up less room on the rack. The 5 to 20-pound dumbbells have 30mm diameter handles, while the 25-50 pounders have a handle diameter of 34mm. All dumbbell heads are attached securely via friction welding and carry a lifetime warranty for home use.
This rubber hex dumbbell set has a 5-star rating with 21 verified reviews. 
Let's talk Dumbbell Racks for a moment. While they sell the dumbbells and rack separately, if finances permits, don't cut corners, purchase the rack too. Made to fit this 5-50 lb. dumbbell set, the two are a match made in workout heaven. When it comes to dumbbell racks, what company gives you the choice of colors from matte and metallic black to blue and red? Now you can have a kick-ass color scheme to match your kick-ass workouts. Rep Fitness also hardens things up with a Zinc-coated finish that makes assembly quick and easy. 
With a smaller footprint than a normal two-tier rack, this three-tier piece of hardware is made from the usual 11-gauge steel material, with a one-inch lip to secure the dumbbells in place.
Dumbbell Rack Dimensions:
Weight Capacity: 1000 lbs.
Height: 34.6"
Length: 48"
Rack Depth: 21.7"
Weight: 75 lbs.
Useable Shelf Length: 42.5"
Shelf Depth: 10"
Space Where Hand Grabs the Handle: 4.5"
How Our Dumbbell set with Rack 5 50 Compos Compare
to a Similar Purchase on Amazon:
In this section, we compare our dumbbell set with rack 5 50 compos with a similar purchase on Amazon
XMark 550 lbs. Dumbbell Set and Heavy Duty Dumbbell Rack, 5 to 50 lbs.
Hex Dumbbell Set (10 Pair) with 3 Tier Storage Rack,
Dumbbells, and Dumbbell Storage Rack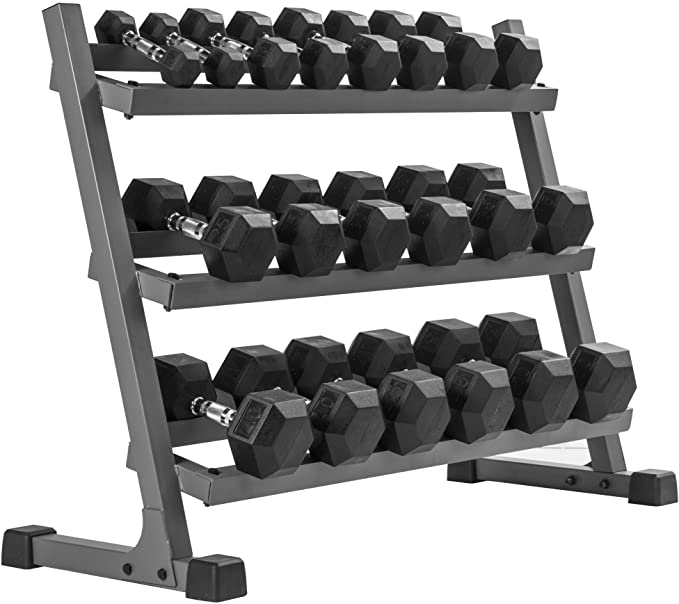 The XMark 5 to 50 lbs. is a decent entry-level rubber hex dumbbell set.  Each dumbbell is made from cast iron and comes in one piece with a durable virgin recycled rubber casting. For comfort, these hex dumbbells feature a chrome-plated and knurled handle. The set includes dumbbell pairs from 5-50 pounds in 5-pound increments.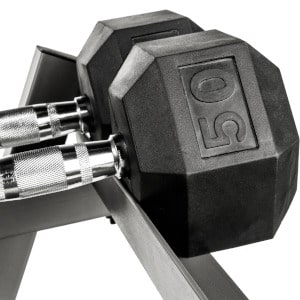 This bundle features a 46" triple anti-slip rack with an angled design and enough storage space to hold the full set without overcrowding.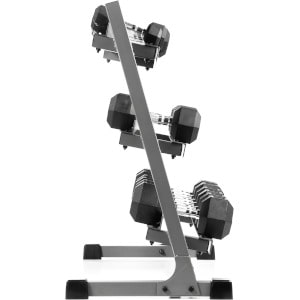 This dumbbell rack set ships with a freight carrier. Curbside delivery only and a signature is required. A valid phone number is required by which the freight carrier can schedule an appointment.
The dimensions of the rack:
Height: 40.25"
Width: 50.5"
Depth: 22.25"
From Front to Back: 22.25"
This dumbbell set rack combo has a 4.8-star rating with 285 verified reviews. 
Check Price Here
 Dumbbell Set With Rack 5 50 lb. Combo Conclusion:
Of course, the final word and decision are yours, but here are a few pointers if you're stuck on which set to choose.
If you're looking for an all-inclusive bundle with the rubber coated hex dumbbell set and rack, Fettle Fitness wins, simply because you only have to make one order.
If you train in a garage with little heating and you live in a colder climate, Rep Fitness should be your choice. There's a lot to be said for training with rubber-coated handles during the winter months.
Maybe you have a color scheme going on in your home gym or studio and want to keep the hardware uniform. If this is the case, shoot for the Rep Fitness set where you can choose the color of your rack to suit your taste; but be aware that you will have to purchase the rack separately. 
Both companies don't cut corners when it comes to looking after their customer and have a good return policy. 

Dumbbell Set With Rack 5 50 lb. Combo
Finance and Delivery:
Fettle Fitness has fair financing for everyone, and once approved you can enjoy your purchase straight away. For residential deliveries: Delivery appointments are made by the freight carrier. The freight carrier will be instructed to call you and schedule a delivery appointment when your order arrives at the delivery terminal. The shipper is not responsible for deliveries that are late or missed due to unforeseen circumstances.
Rep Fitness has "Afirm" where you can make easy payments over 3, 6, or 12 months. Checking eligibility won't affect your credit. Usually, with Rep Fitness, all orders are ready within 24hrs. They offer free shipping in the US, or you can pick up your purchase at Carlisle, PA Warehouse.
We hope this dumbbell set with rack 5 50 lb. combo article helped you make a decision.
Build Your Home or Studio Gym With Us!
Now You've Chosen Your Dumbbell Set With Rack 5 50 lb. Combo,
Let's Build Your Physique
With These Exercises & Workouts