Mission Jacked.com


 The Dumbbell Workout, Exercise & Minimal Equipment Resource For Building Muscle!



Best Olympic Bumper Plates For Your Home Gym
by Psymon H
Introduction:
So you've bought a set of quality rubber coated hex dumbbells and have them neatly placed in pairs on the 11-gauge steel rack on the far wall in your home gym. Last week you put together your adjustable workout bench and ordered a suitable power rack and barbell to beef up your lifting options...Now what? 
If you want to make good use of the money spent on the power rack and work your back squats, cleans and deadlifts, it's time to purchase some plates. Before you go wild and buy the first set of plates that fit your Olympic barbell, there are a few things worth considering.
While you will eventually throw down heavy-duty mats to protect the freshly laid wooden floors, if you're honest, you know you are likely to drop the weights at the end of a gut-busting set, more so when you're working out in Gallia-mode.
To keep the wife happy after the money spent and the floor damage-free, you know cast iron plates won't suit your training style and are very likely to get chipped after a couple of killer barbell workouts. Olympic bumper plates are going to be your best option.
Scroll Down To Continue Reading This Article
Continue Reading Best Olympic Bumper Plates For Your Home Gym 
Hi, I'm Psymon H, your online training partner, workout motivator, and the man putting his 40-plus years of training experience and know-how to good use, helping you to achieve your physique goals.
In this article, I'm going to help you to choose the ideal Olympic bumper plates for your home gym. It can be overwhelming having to choose gym equipment from the array of options available. To make the process easier, I've done the leg-work for you by reviewing and testing various bumper plate sets. The Mission Jacked team has narrowed the list to four recommendations based on feel, durability, and performance. While the final choice is yours, we don't have a horse in this race, and will always give an objective view. 
Olympic Bumper Plates Recommendation 1:
Rubber Coated - Precision Milled Steel Core - Individuals
by Hampton Fitness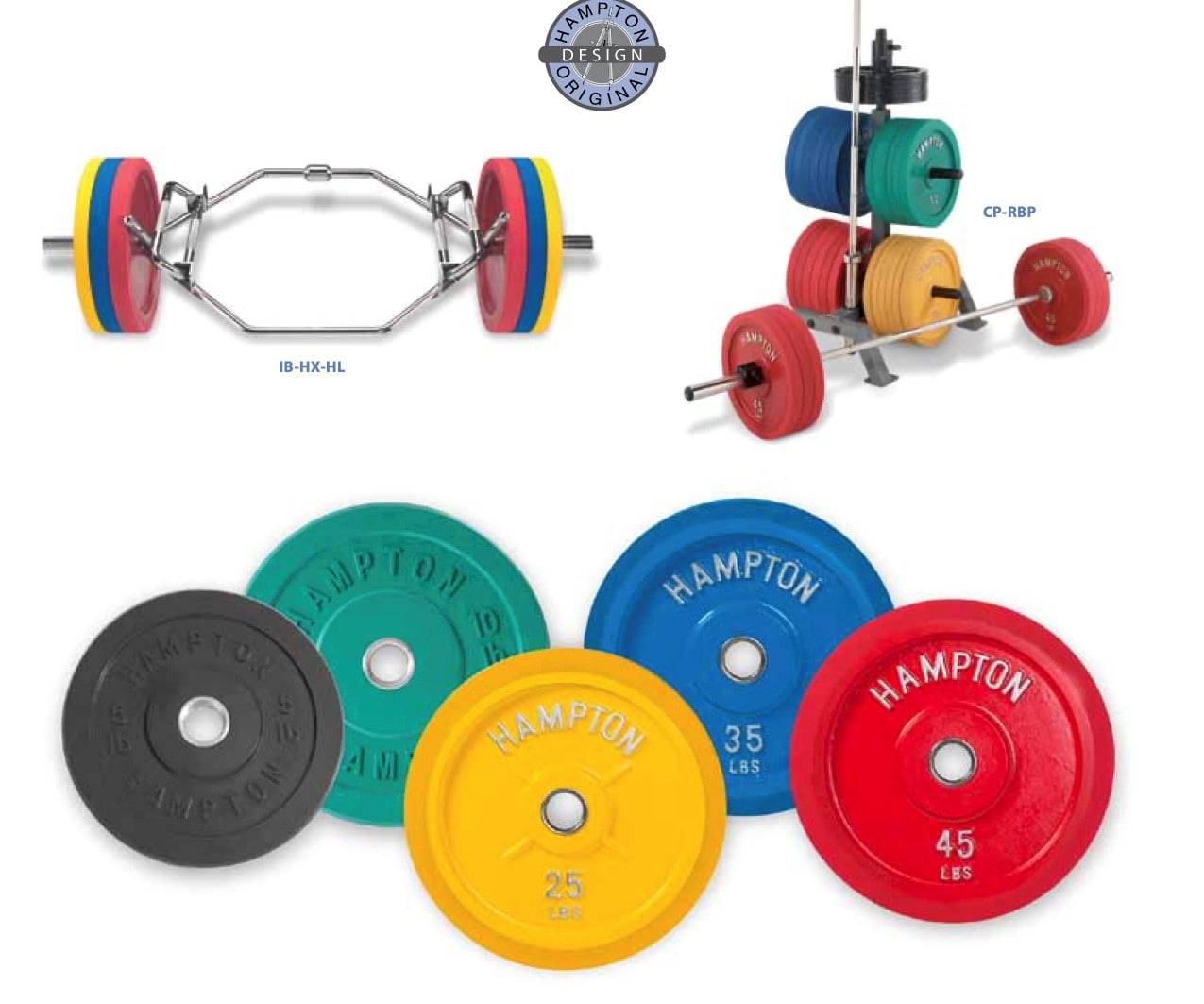 Hampton Fitness has gone out of its way to redesign the old classic bumper plate to fit the needs of the modern lifter. Whether you're part of the Crossfit culture or have ambitions of getting jacked from the comfort of your home gym, this slim line design will allow you to throw more weight on the bar.
 Whatever camp you belong to, it doesn't matter. If you like to drop your weights after a heavy set; these machined plates will alleviate much of the impact of hitting the floor. The low impact is made possible by a 1" virgin rubber coated protection poured over a solid steel plate inside. You no longer have to run the risk of a barbell bouncing back and catching you flush.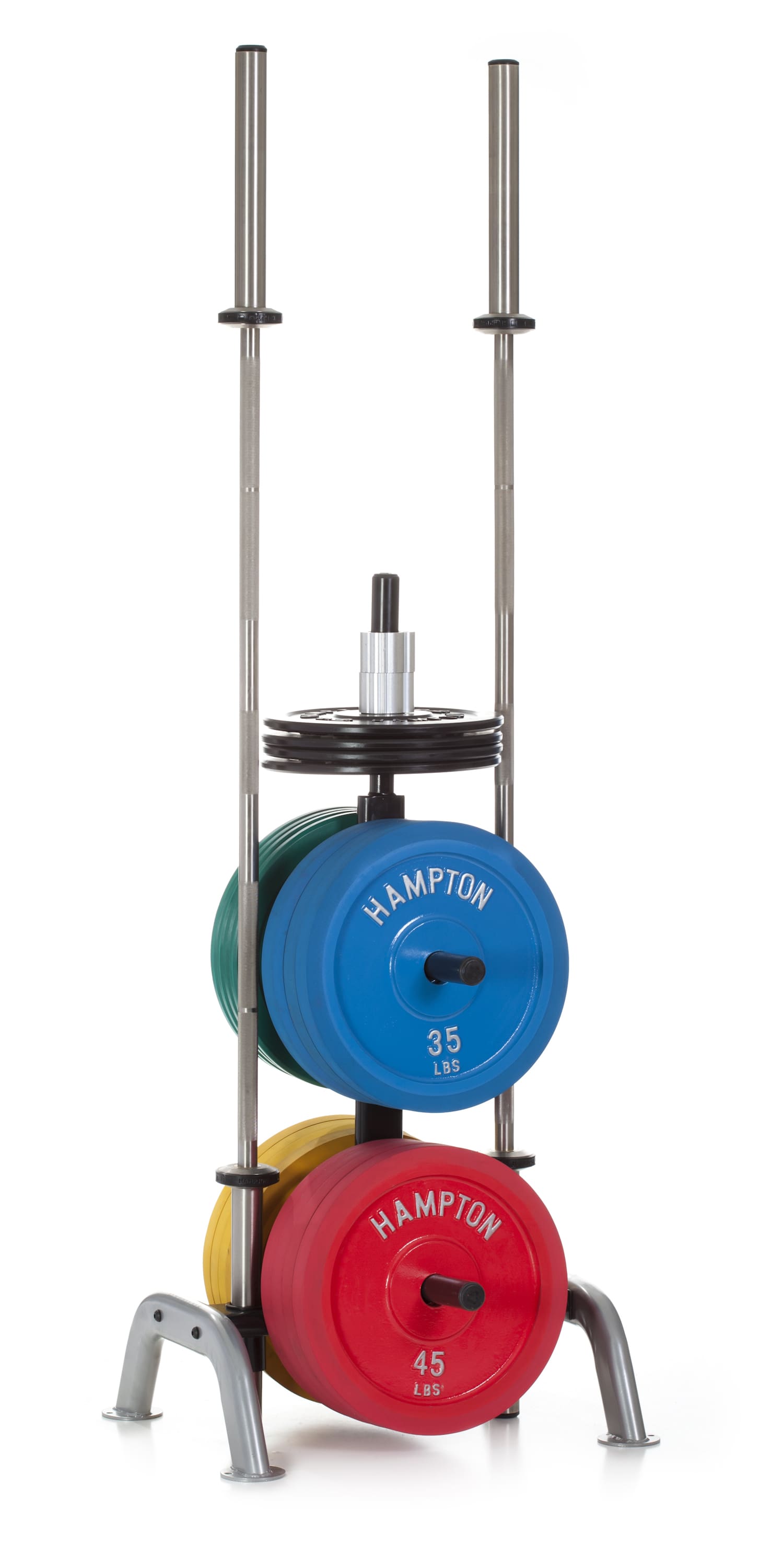 Another great feature of this bumper plate is the snug stainless steel hub that stops the plate from moving on the bar. This was always a big distraction when using cast iron plates or cheaper rubber bumper plates.
 There's something to be said for colored plates that brighten the mood of an otherwise serious atmosphere. The 25, 35 and 45-pound plates are backed by a 5-year commercial warranty.
 These rubber bumper plates are 5-star rated with one verified review.
Olympic Bumper Plates Recommendation 2:
Dead Bounce Conflict – Lb
by Bells of Steel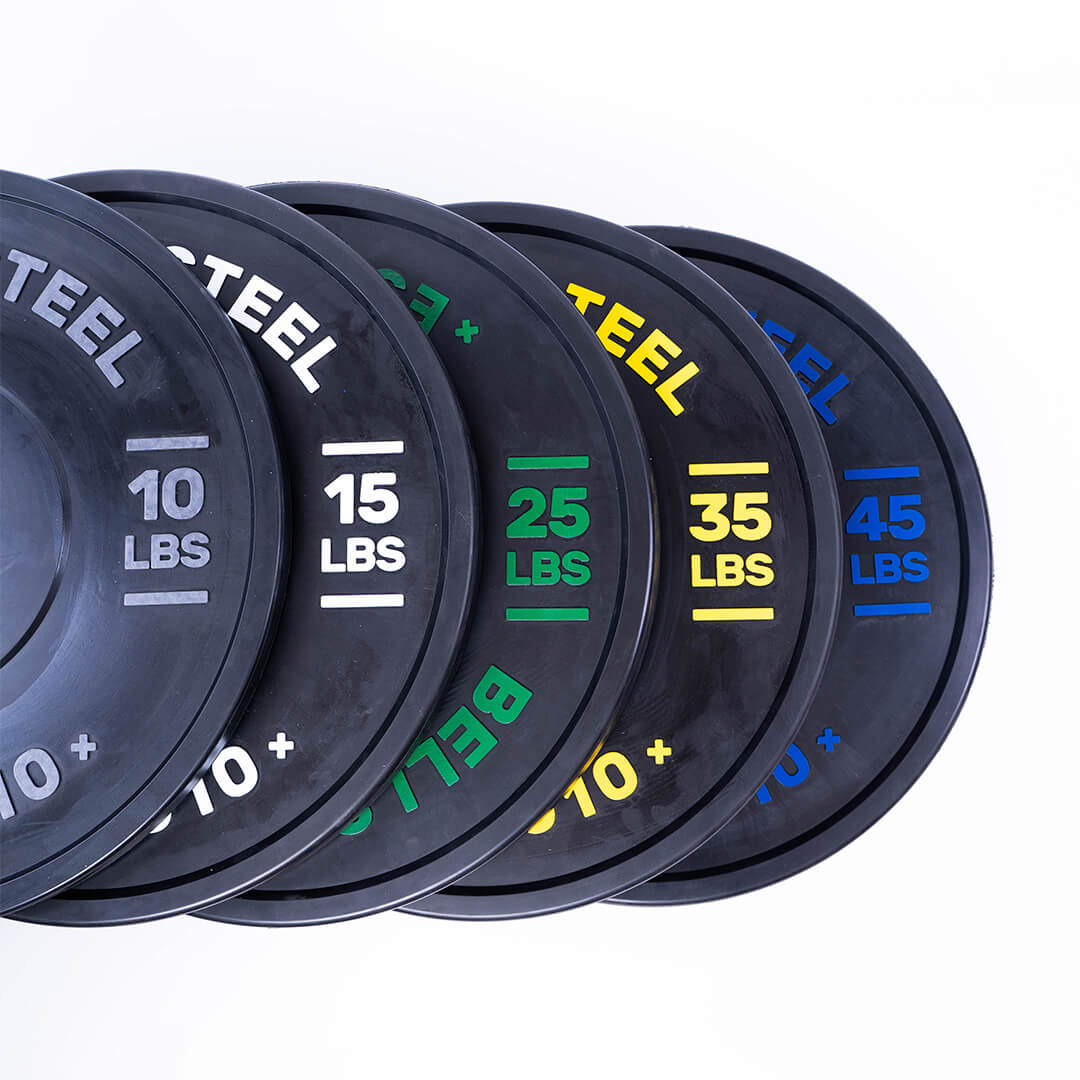 Bells of Steel are well known for stuffing commercial grade quality into home gym equipment, and their Dead Bounce Conflict Olympic Bumper Plates are no exception. They are great for home gym use, while competitive lifters can use them for Olympic weightlifting. Your gym floors are in safe hands with these heavy-duty colored black bumper plates. I noticed that these plates are intended to survive frequent drops with an extra thick rubber coating designed to absorb impact with reduced noise.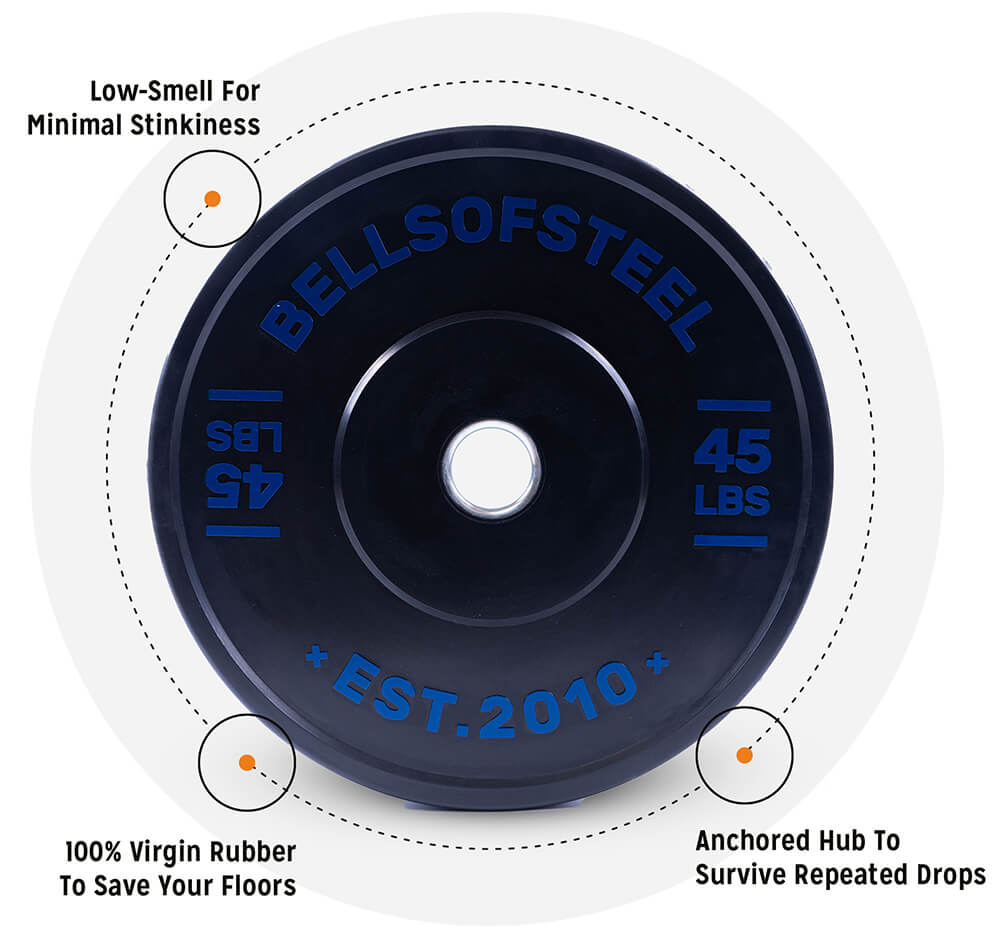 With a slim design, these 45-pound plates out-do the 3.35" standard cast iron plates, coming in at 3.15 inches. This allows you to test your strength in the big lifts by loading more weight on the bar. While cheaper rubber bumper plates can be up to 10% off the claimed weight, these barbell plates are accurate to +/- 1% of the claimed weight.
If, like me, you hate the smell of low-quality bumper plates that use recycled tires, no need to plug your nose or air out your plates because Bells of Steel uses the very high-quality virgin rubber that has a low odor.
The diameter is 450mm with stainless steel inserts, giving you minimal bounce. The 25-35 and 45 lb. weight plates have a 1-year warranty while the 10 and 15 lb. bumper plates carry a 90-day-warranty. All in all, these are superb purchases that won't break the bank.
They have a 4.9-star review rating with 135 reviews.
Olympic Bumper Plates Recommendation 3:
The Black Bumper Plate Set
by Rep Fitness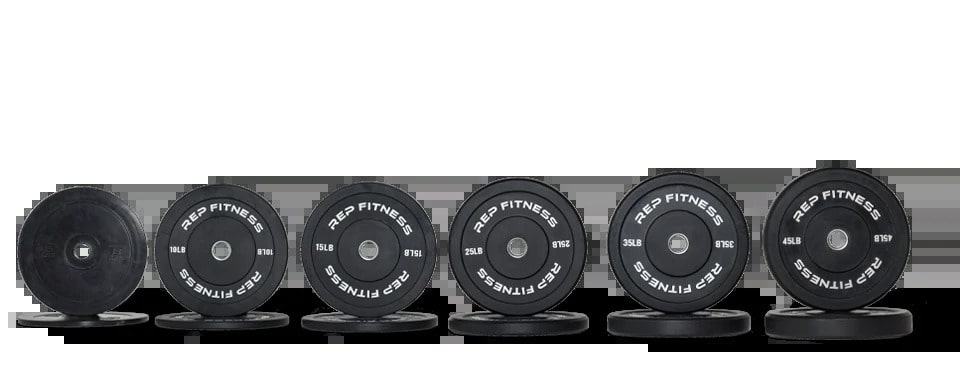 With 150 reviews and a 4.9-star rating, these attractive black bumper plates by Rep Fitness are making an impression on the fitness industry. Could these be the best Olympic bumper plates? You will decide!
 While you ponder the possibilities, let me give you the facts about this complete weight plate set. 
First, you have the choice of
160 lbs.(Two 45, 25, and 10)
190 lbs.(Two 45, 25, 15 and 10)
210 lbs.(Two 45, 35, and 25)
230 lbs.(Two 45, 35, 25, and 10)
250 lbs.(Four 45, Two 25, and 10)
260 lbs.(Two 45, 35, 25, and 10)
370 lbs.(Six 45, Two 25, 15, and 10)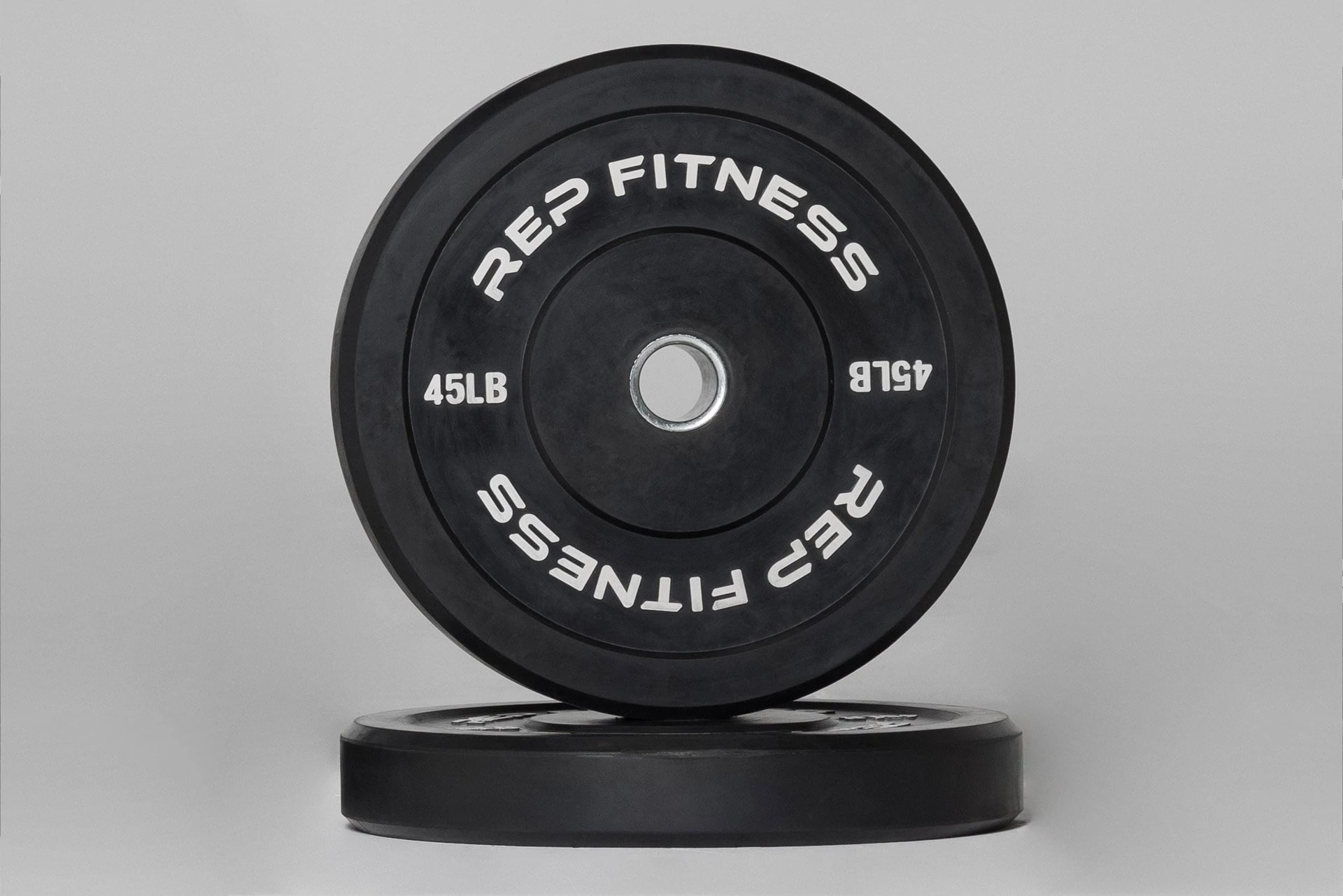 Sleek, cool and durable, these bumper plate weight sets make a perfect addition to any home, studio, or Crossfit gym. Rep Fitness decided to make the 10-pound plates extra thick to help increase indestructibility and lower the chance of tacoing. The 45-pound bumper plates are made thinner than the average bumper plate at a slim 2.83 inches. Slimmer than the Bells of steel Dead Bounce Conflict bumper plates at 3.15, this allows for even more weight on the bar.
Made to be dropped, you don't have to worry about missing a snatch or damaging the floor or equipment. With 3% tolerance, they have stainless steel inserts with hooks molded into each bumper plate. These Olympic bumper plates have been tested to withstand over 12'000 drops from a height of 8 feet and have a low bounce.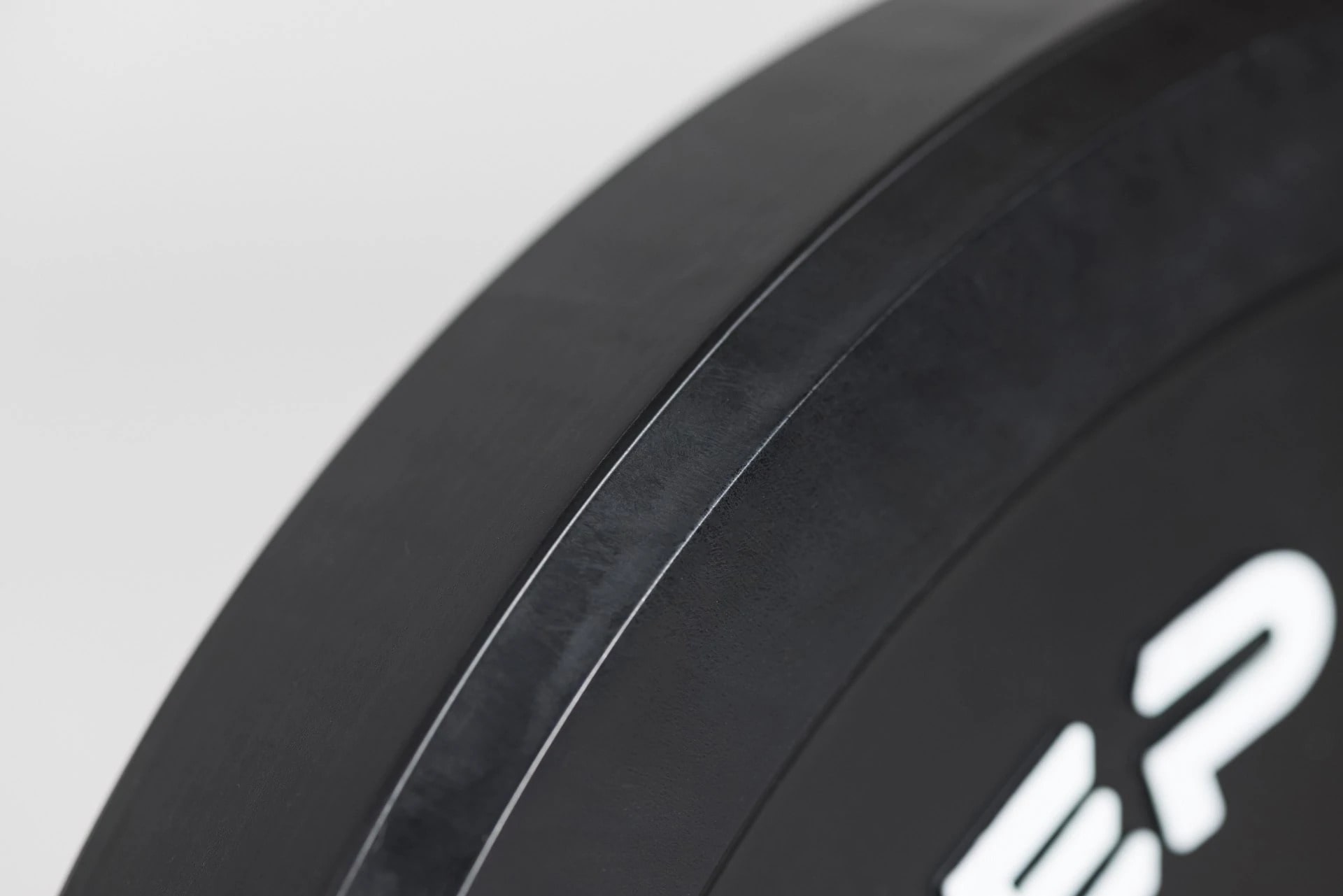 The Rep Fitness warranty is 6-months for the 10 and 15 lb. bumper plates for home and commercial use. There is a 3-year warranty for all others for home use and 1-year for commercial use. While the mold release oil wears off super-quick, it is recommended that you let the bumper plates air out for a few days.
Olympic Bumper Plates Recommendation 4: 
ROGUE BUMPER PLATES
BY HI-TEMP
It's true "You get what you pay for." With these Olympic bumper plates, you're getting crumb rubber bumper plates made in America, backed by a 4.8-star rating and 288 reviews.
Ranked amongst the best, these black bumper plates are vouched for by lifters, gym owners, and trainers alike.
Indestructible and brutal-looking, they're made from recycled vulcanized rubber with a 2" stainless steel insert. Because of the manufacturing process, these bumper plates won't win the "Best Looker of The Year," but what they will do is be there workout after workout. 
To allow for better protection when multiple bumper plates are on the bar and to reduce inserts popping out, Rogue decided that the collar on Hi-Temp bumpers should be inserted from the plane of the plate. 
These black bumper plates come in sets from 190 lbs. to 1000 lb. sets with various sized bumper plates from 10 lbs. to 45 lbs. You can choose your breakdown that is less than or equal to one of the complete weight plate sets. The bonus is that shipping is included with each set.
Olympic Bumper Plates:
Olympic bumper plates are made from high-density rubber and are weight plates that are standard diameter across all weights. These rubber bumper plates are mostly used in Olympic weightlifting and Crossfit training where loaded barbells are regularly dropped on the floor. The rubber bumper construction protects the floor, weights, and barbell from damage.
 The advantage of having a uniformed diameter when working with more than one plate per side is how they bounce once dropped. Being the same size, the plates hit the floor at the same time which gives the barbell minimal bounce.
 When considering which bumper plates to purchase, remember that most of these plates will have a strong rubber odor. While no bumper plate is free from the smell of rubber, if you don't have the luxury of being able to air your plates out before use, it's advised that you go for plates made from virgin rubber. While they still have a slight smell, the smell will disappear after a few weeks. 
We Hope You Found Our Olympic Bumper Plates Article of Help.
Build The Rest Of Your Home Gym With Mission Jacked